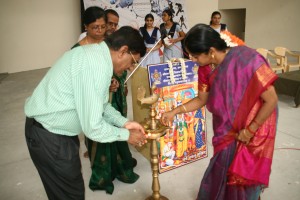 The students were highly active on both the days with adrenaline rushing in to volunteer the guest schools, organize the events, conducting the events to the optimum perfection. All the office bearers had done their job appreciable.
The inauguration ceremony commenced with the lighting of the lamp by Principal, Mrs. PadminiSriraman, and Vice Principals, Mr. A. KasiViswanathan and Mrs. A. Raja Kalai. The newly constructed auditorium was filled with curious eyes and feet that tapped to the rhythm of the moments.
Judges for the various events were indeed so grateful to have shared with us a small performance and to have showcased their thoughts with us. The excitement continued on the second day also, which included a special event for the winners of JAM and Shipwreck. The dance and music teams did set the stage on fire through their vibrant performances. We had also brought in a new event to encourage the native talents of the state, "Folk dance with action". The events brought out every bit of talent hidden to have them showcased in such grandeur.
On the eve of the second day, we had the valedictory function. Playback singer, Mr. M. J. Sriram was kindly consented to be our Chief guest, who enthralled us by humming one of his favorite tunes to us. Also, the overall trophy was bagged by Bala VidyaMandir.
Kalavaibhavam, which marks the significance of cultural events, was a great success just like every time. There are indeed a lot of people to be thanked for putting in their kind support from senior staff, teachers and students. In short, Kalavaibhavam, just as always struck a lot of minds with memories to be remembered for a long time.