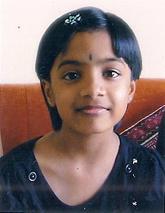 Shruti Swaminathan is a student of class V of our school. She is a budding writer and has published her collection of stories recently.
Shruti, a cheerful person, at the age of 10, has published her own book titled 'Straight from a Child's Heart'and surely has a reason to feel happy! The book comprises of five stories written by her. It is a mixture of different elements. One of them is based on school and examinations and a parent's trip to childhood, another includes a zodiac planet story, and yet another involves a mystery based on robbery.
Her interest in the field of writing began when she was just five years old. Her favourite books and authors include Malgudi Days, Ruskin Bond, The Adventures of Sherlock Homes, The Diary of Anne Frank, David Copperfield and Great expectations by Charles Dickens. Sometimes, her writings drew inspiration from news events. On the occasion of her 10th birthday her parents decided to self-publish a few out of her many stories as a birthday gift.
So cheers to this budding writer!