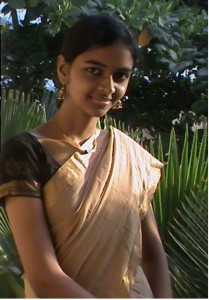 A keen student of Carnatic music with immense talent and potential, Apoorva Ravindran has been making a name for herself since several years now, both in concerts and contest scenes. She honed her skills under Satalapathi Balasubramaniam, Neyveli Santana Gopalan, T.G. Badri Narayanan and Tirupugazh Maamani Subramaniam and is currently receiving advanced vocal training from Musician-Composer-Director Chitravina N Ravikiran. Some of Apoorva's many achievements have been listed below:
1. Apoorva is a recipient of the Government of India Scholarship for Carnatic Music.
2. She has swept away prizes in almost all major competitions, including compositions of Annamacharya, Oottukadu Venkata Kavi, Purandara Dasa, Tyagaraja, Neelakanta Sivan, Shyama Shastri, Muttaiah Baghavathar, Gopala Krishna Bharati, Tirupavvai and Tirupugazh, conducted by organisations like Indian Fine Arts Society, Narada Gana Sabha, Mylapore Fine Arts Club, Rasika Ranjani Sabha, Hamsadhwani and Tirumala Tirupati Devastanam
3. She also won the Muthuswami Dikshitar Super Singer Award, after going through various selection rounds, testing both vocal and theoretical knowledge on Dikshitar.
4. Apoorva has been a guest artiste in an audio production Hari Samarpanam- a compilation of kritis set to music by Chitravina N Ravikiran.
5. She performed during the launch of the book, Voices Within, by Smt. Bombay Jayashree and Shri T M Krishna.
6. She made a successful tour to the United State of America to participate in the Cleveland Aradhna Festival 2011 and at San Diego festival as a lead singer in the operatic Dance Production 'Ramayana'.
7. She was the lead singer in the Music album for the dance 'Divine Equation' that was released during the World Premiere at Chicago in 2012.
8. Apoorva also participated in 'Unity in Diversity'-a cultural meet held Hyderabad, conducted by the Governments of Tamil Nadu and Andhra Pradesh
9. She won the 'Golden Voice Of The Episode' at the Tanishq Swarra Sangeetham Show on Raj TV and was awarded a gift hamper worth Rs. 10,000 from Tanishq.
10. She has also had success in inter-school competitions. Apoorva won the First place in the light music event at Kalpakosha conducted by Sir Sivaswami Kalalaya Senior Secondary School, Mylapore; the First place in the solo singing event at Impressionzs conducted by the National Public School; the First Place in singing event at Reflections 2012 conducted by Vidya Mandir, Mylapore; Second place in the singing event at Bala Vidya Mandir's interschool culturals; Second place in the singing event at Sishyamitra conducted by Sishya
11. Apoorva was also a part of the school team that won the overall Third place at the interschoolbhajan competition conducted by the Bhakthaswaraa Bhajan Mandali.
The team also won the prize for the 'Best Ayyappan Song'.