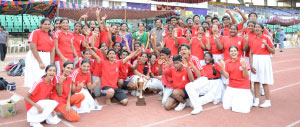 The 6th of August, 2012 was the day when weeks of practice and anticipation culminated at Nehru stadium. Vigorous efforts put into training by all the house teams ensured a splendid march past performance. However, Pandian house was adjudged as having the best march past team. The chief guest for the day was SRI. SRIDHARAN SHARATH, a Tamil nadu cricket player who motivated us with his inspiring words. All the students enthusiastically participated in the events of their choice and the deserving few walked away with the prizes.
Our dedicated sport instructors and other teachers organized the events without any glitch and provided a level playing field by actively encouraging all the participants. The spectators cheered for everyone. Ultimately at the end of the day Cheran house was crowned as the 'Over all Champion'. Finally the students, satisfied at having given their best, went home with memories to cherish.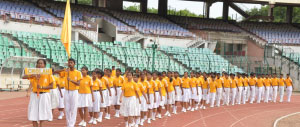 Anushree.N
X-A
Related Posts
The Heritage Club 2012-13 Inauguration
Mukund Ram addressing the school
Kalavaibhavam 2012: An extravaganza!
FOUNDER'S DAY & ANNUAL DAY 2015
Orientation Programme by Prof. Vipenendran, from
Orientation Program for the teachers by Swami.Vimurtanandaji,
Reading Day Celebrations at School